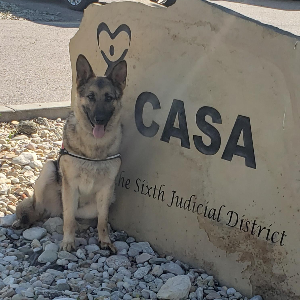 Meet Jamboree! 
Our 3 year old certified facility dog! Jamboree is 100% owner trained by her handler, Laurie Schwabauer. After 300+ hours of extensive, logged trainings, Jamboree was able to be registered through the Alliance of Therapy Dogs. Jamboree comes from 5 generations of therapy and working dogs! She holds many certifications, such as, the AKC Canine Good Citizen, the AKC Advanced Good Citizen and passed the Public Access Test in 2017. 
Jamboree's therapy career does not begin and end with our facility. Jamboree has been to libraries, hospitals, nursing home, hospice centers and public schools to offer emotional support and a comforting environment! 
We hope you look forward to visiting with Jamboree!! 
Our certified therapy/service dog will be utilized at the visitation center and has been trained to assist staff with various client related services! 
Benefits of our therapy dog:
Allows clients to feel relaxed, comfortable and helps lower stress.
Offers support when talking about tough issues.
Acts as an ice breaker when children are being re-introduced after trauma.
Provides support for adults and children experiencing high stress.